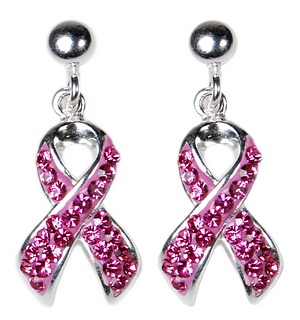 October 1, 2017
Posted By Shelley Ross / News | Tags: breast cancer, Inc. documentary, NFL pink ribbon paraphernalia, Pink ribbon protest, Pink Ribbons, Pink Ribbons by Samantha King, Shelley Ross, The Cure Alliance, The Pink Ribbon Fund, The Pink Ribbon Shop / Comment
Please Think Before You Go Pink
UPDATED:  It's my least favorite time of year: October and its onslaught of pink ribbons, the great con on the American public who believe  by buying "pink" products they are advocating in the fight against breast cancer.
I have earned the right to protest as a long-time investigative  journalist, a breast cancer survivor and the president of The Cure Alliance, a non-profit  organization  of top scientists, researchers, medical doctors and innovators, plus those who support their efforts to end suffering by developing cures for chronic, debilitating and fatal diseases. Its #1 goal is to help accelerate potential cures from the laboratory to the bedside.
That's the work to which I'm committed. The "pink thing" makes people like me angry.
Pink jewelry, notebooks, temporary tattoos, totes, blankets, towels, luggage tags, footwear, headwear, sports bottles, iPhone cases, ties, pens, baby clothes, hats, scarfs,  gloves, Christmas cards, tree ornaments, emery boards, stress balls, baking pans, aprons, safety pins, you-name-it.
How much money from all those pink products is designated for breast cancer funding. Not a lot, sometimes nothing.  Even with transparency, how many consumers read the fine print. If they did, they'd be appalled.
Take the example of The Pink Ribbon Shop, an online business enterprise I found today in a random Google search to "buy pink ribbon products." The Pink Ribbon Shop, which also supplies other companies including Amazon, has dozens of products for sale including jewelry, clothing, accessories for home, office, cars and more.
The Pink Ribbon Shop website says The Pink Ribbon Fund was founded in 2011 to fund a cure for breast cancer research at University of Texas M.D. Anderson.  According to their latest statements (November 2016) they have given $123,000 to research. In 2016, they donated just $4,600. Is this a percentage of all sales? No.
The approximate money they donate comes from a few sources. Schools, teams, groups, businesses, and others who hold fundraisers incorporating their products sometimes donate some of their money to The Pink Ribbon Fund.  If you're shopping online at  The Pink Ribbon Shop, you can check a box to make a $1, $5 or $10 donation to breast cancer research at MD Anderson. There is also a place for tax-deductible donations of $25 or more. And the have a gift shop at M.D. Anderson.
Their website also notes:  "A few very generous companies have chosen to donate a portion of the sales of their "pink ribbon" product(s) to our Fund.  Honor roll detail of these fabulous companies, coming soon!"
Finally, The Pink Ribbon Shop donates 100% of the proceeds from one produc : a $1 Pink Ribbon Silicone Bracelet Band that reads:  Funding the Cure with THE PINK RIBBON ROUNDUP. The website currently lists this product as out-of-stock.
Desperate for a hoodie with a pink ribbon now?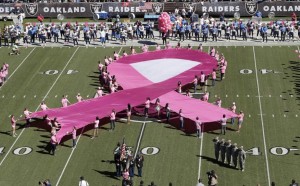 Last October, the Washington Post exposed the "sliver"  of funds that go to breast cancer research from the huge NFL push  on pink ribbon sports paraphernalia:
But if you think buying a $26.95 pink-lined Patriots hat means $26.95 toward the fight against breast cancer, think again. About 12.5 percent of the sales price of NFL-branded "pink" products typically goes to charity, according to NFL spokeswoman Clare Graff. In the case of the hat, that would be $3.37.

If that does not seem like a lot, don't blame the football league. It says it donates all of its royalty to the American Cancer Society. Retailers and manufacturers also collect their share of the sales price. And that arrangement may be better than many others.
The NFL at that time had donated $7 million since 2009 to the American Cancer Society. If that sounds like a lot of money, consider that according to Forbes that amount equals the salary of just one head coach in the top tier.
The question of where the pink money goes was first raised by Samantha King in her 2008 book, Pink Ribbons which spawned the 2012 documentary Pink Ribbons, Inc. Neither made enough of an impact. Going pink is bigger business than ever.
So let's keep asking:  where does the rest of the pink money go? Anyone who has ever bought a ribbon or walked in a  5K to support their  mother, sister, wife, daughter or friends should demand to know. We are talking about billions of dollars that could have been directed to research, like that of the Cleveland immunologist who is working on a breast cancer vaccine for triple negative type, an aggressive form of breast cancer in which the malignant cells from the tumor "like to travel and like to travel fast."  Oh yeah, that's the type I got.
Seven  surgeries and six months of chemotherapy later, I'm doing really great.  Except that the pink of October really makes me angry. So on behalf of the one in eight women who will get breast cancer I ask you to  please stop and think before you go pink. It may not be helping anyone but the retailer and manufacturer.